Pretty sure I'm in the minority on this one, but this year was actually a good one for me! One of the best in a while, to be honest…
Pandemic
There's nothing good about this, and we all could do without it. But even then, being introverted probably helped me to fare better than most with the whole sitting at home thing. Also, nobody of my family and friends had died or had any severe health problems. So I'm filing it under the "could be worse" category.
Job
Unlike many, many people who lost their jobs this year I actually got a new one. I was lucky enough to wrap up my interviewing and even do an onboarding week in New York in the first week of March, right before the quarantine. I distinctly remember a conversation with the manager of my favorite breakfast place in NY about the virus: she was worried, and I was completely dismissive about the severity of the thing, saying that it's going to be gone soon like another flu, and the probability to catch it was really low. Yeah… Didn't take long to realize how wrong I was!
So anyway this is now my third job in a row where I'm working remotely from West coast on a New York based company :-) This time it's Datadog. Dealing with Python, TypeScript, React, Kubernetes, etc. Nothing out of the ordinary. But going from a household with no income to having two people with income obviously sweetens the deal quite a lot!
highlight.js
It was a long process, but now it is fair to say that maintenance of the library is finally out of my hands. I still own the domain name and do occasional merges and fixes to the site code which Josh asks me to, but I'm so very glad the project hasn't died with me losing the interest!
Hobby project
This is something that makes me really, really happy. After quite a few years of hiatus I made enough time to go back to programming something for myself. Not nearly as regular as I'd like to, but it is happening, and it's immensely satisfying! This time it's an Android app (in Kotlin, of course), and the one I wanted to make for myself for more than 5 years: a shopping list. It may sound totally lame but I don't care :-) And I'll definitely blog about it in some more details.
One thing that made it possible is that our school has smoothed out the remote learning process enough so that me and my wife don't have to babysit our 3-rd grader through the day. She does everything mostly by herself, so we have time to actually work during the day and I, consequently, have time to do other stuff in the evenings.
Running
This was the best year ever, literally! After recovering from yet another of innumerable injuries in the beginning of the year I'm back to running fast, and setting personal bests on both 6 and 13 miles. This is probably in part due to the new running shoes, too.
Board games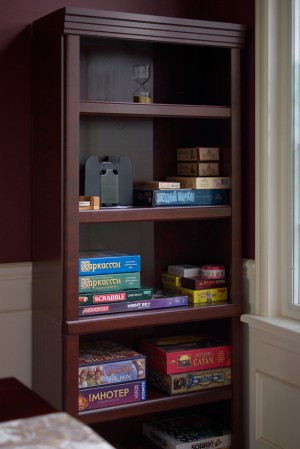 We used to play board games a lot with different friends and colleagues back when we lived in Moscow, but after everyone moved everywhere we pretty much only played once a year when we visited our oldest friends for the New Year celebration.
But this year we realized our kid is old enough to be interested in board games, so we went big on that and dedicated a whole room to it! We dug out the old games we hauled with us from Russia and we bought some new ones. And now we have some family fun most nights. I have to say, our girl is scary good at Munchkin!
С Новым Годом!